How to run with an idea? Maybe how to run after it! That's kind of what happened anyway!
A Little Creative Challenge
It all started out innocently enough. I joined a 5-day creative challenge to create a snowman design with two coordinating prints to go with it. (Below is what I ended up with)
The challenge was so fun, I decided to continue to add more patterns to it to turn it into a full blown collection. As my collection grew, so did my imagination. My playful thought went something like this: What do snowmen do for 'snow days'? You know, the kind of days we got to stay home from school as children? Well, they probably go outside and play!
This was getting closer to the entire collection…although I did keep adding more and more patterns to it…I couldn't stop myself!
Sending it all to Spoonflower
I eventually uploaded all of the patterns to my Spoonflower shop and ordered fabric samples. (You can actually see the whole collection here.). Once I received my samples in the mail, it got me thinking…what if I turned this into into a quilt?
The problem(s): I don't know how to sew (very well). I also don't know how to create quilt patterns (at all).
But I really wanted to do it. So I started with what I could do and created a mock up of a quilt in Photoshop. I sent a picture of it to my mom (who sews amazing quilts) and asked her if she could make it (without a real pattern).
PUtting the pieces together
Even though my mom hates winging it and prefers to work with a pattern, she was a good sport and said YES to my crazy idea of cobbling together a quilt based on the above picture.
We found this free pattern online that helped her with some of the details and measurements (even though we made my quilt look much different), and then mom found this cute snowflake pattern here.
Here's the finished quilt: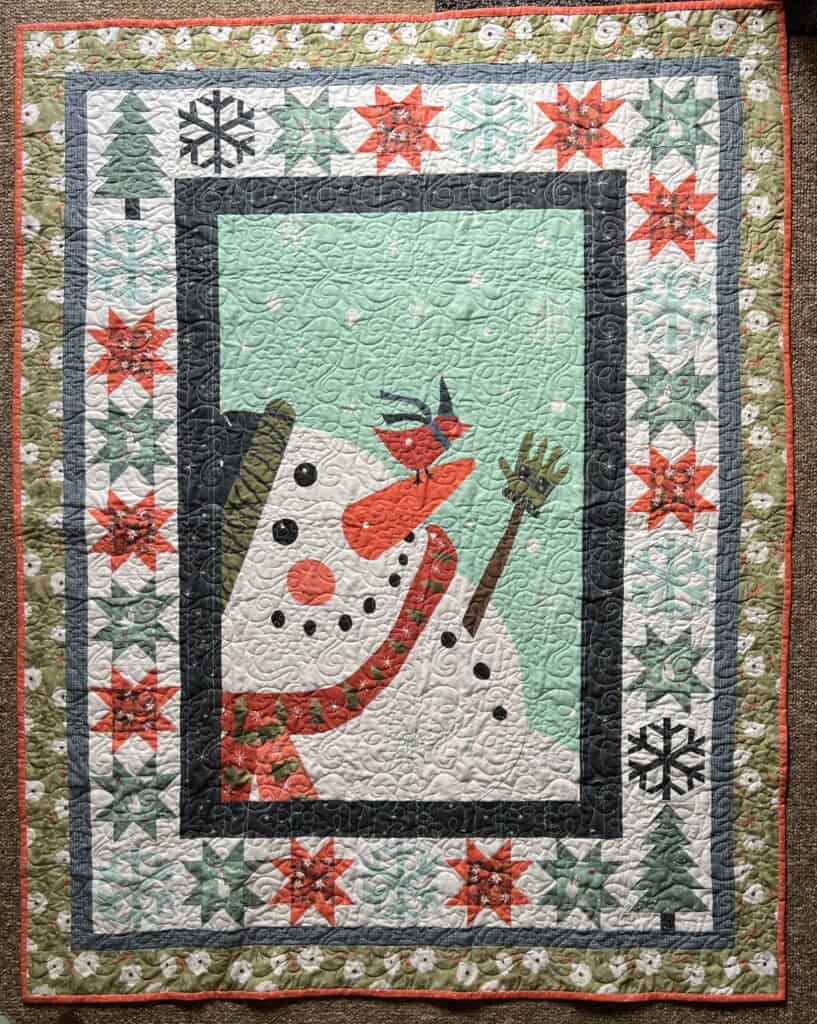 Moral of the story…sometimes if you allow inspiration and don't make it follow the rules…you end up with unexpected things in the process.
Here's a little video I did over on Instagram (Please come be my friend on Instagram, if you aren't already)
Now, what can you do to get your creative juices flowing? Do that! And then run with the idea and see where it takes you!
PS Here's the link if you'd like to check out my Snow Day Collection on Spoonflower.
Oh, and the new snowman quilt is Truman approved. And really, isn't that all that matters in the end!?!?!?! (At least according to him!)